A holistic approach to surf teaching
Aligning all the key elements to make you the best surfer possible.
At Coast to Coast, we provide not only fun and safe adult surf classes, but also the chance to develop your surfing skills while discovering Scotland's stunning coastline. 
For those looking to enhance their surfing abilities, our development path on the east coast this includes land training, theory, and visual feedback, all of which can be tracked through our user-friendly online milestone system. We also offer higher level surf development on our island, north coast and mobile tours.
Want to maximise your surf fitness? How about learn how to understand surf forecasting? At Coast to Coast, we've got you covered!
Comprehensive surf instruction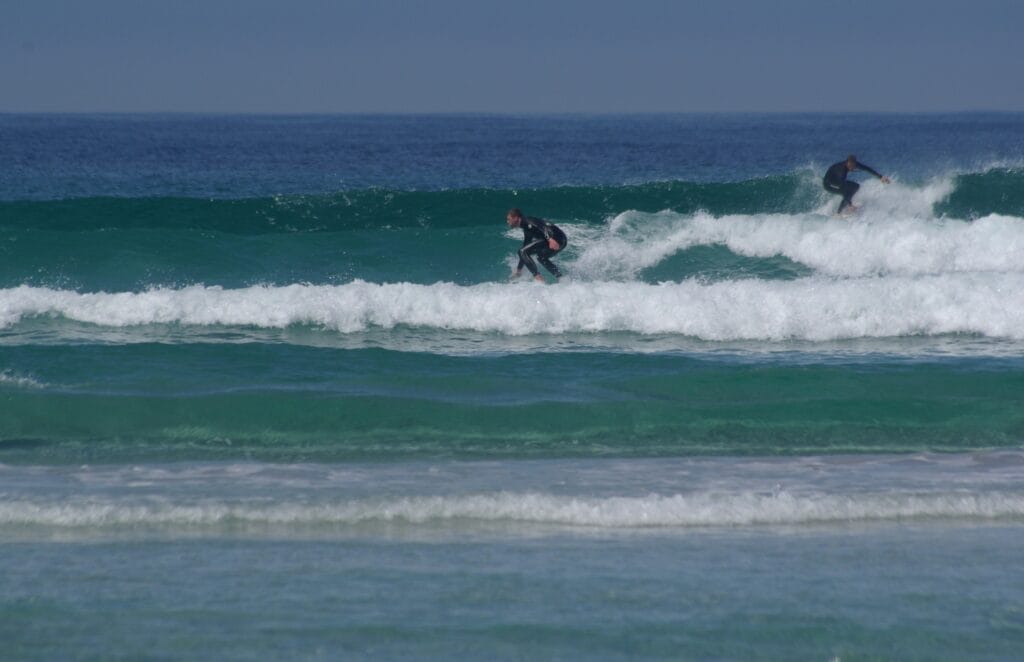 Pairing world-class surfing techniques with land training, visual feedback & theory
Coast to Coast's holistic approach to surf instruction, on top of adult surf classes, allows our customers to piece together all elements of surfing. This is a big factor for progressing in the sport and becoming the best surfer possible.
Our land training options progress the physical elements required for surfing. Surf Skate classes help you nail your turning technique and balance on the board. Then, when you do catch that perfect wave, you'll be comfortable making those flowy turns that you've always dreamed of! Our Yoga and Pilates classes are designed for surfers, focusing on surf flexibility & strength.
Photo & video analysis is an extremely helpful way to visualise where improvements need to be made on your technique. We analyse footage, discussing which which areas you need to work on. For example, these areas could be your pop up, your turns or board/wave positioning.
Lastly, our theory classes pull everything you've learnt so far together. Become the expert at identifying the best place to sit in the water for the perfect wave, understand what to look for in the surf forecast or start visualising body positioning for different techniques.
Beginner
Improver
Intermediate
Advanced
Photography
Filming
Photo Analysis
Video Analysis
In-person beginner classes
In-person intermediate classes
On-Tour beginner classes
On-Tour intermediate classes
Just fill out the form and we'll get back to you as soon as we can.