An Interview with Charlie and Ansel
The clock is ticking til the big day for our club members Charlie and Ansel, but you wouldn't know by speaking to them. The pair appeared cool, calm and collected when we sat down to chat with them.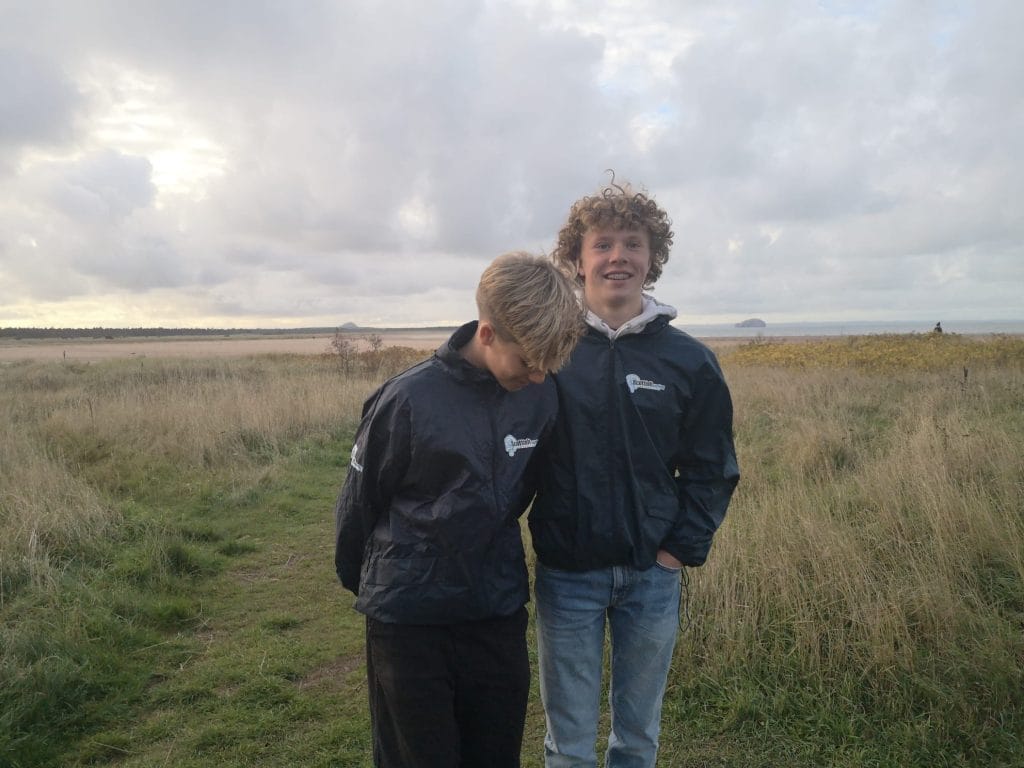 Q: How did you start surfing?
Ansel: My brother surfed and then I copied him and bought my own  surfboard and wetsuit and started surfing all the time. I have surfed a little bit since I was 7 but didn't start going regularly until shortly before the Belhaven surf development squad, I was about 11 then.
Charlie: I had a few friends that surfed and I wanted to try it out so I booked a week long Junior Course at Coast to Coast, that was back when I was 11 and I have now been surfing for just under 3 years.
Q: What is it about surfing that you love so much?
Ansel: I just like that every wave is different, I like the challenge in that.
Charlie: See when you catch a wave yeah, it's just when you start going down the face the adrenaline rush makes you feel free.
Q: When was your first competition you did and how did it go?
Ansel: This is going to go against what I just said but I actually competed when I was 8 when I wasn't regularly surfing – but I mainly just flopped about in the water. Charlies was at pease bay and he was really annoyed I beat him.
Charlie: Ansel – 
It was actually the 5th September 2021 and I came third in the under 16s. (Ansel won the under 14s that year). 
Q: What are your thoughts on the competition coming up, how is training going?
Charlie: As of now we actually have the British Comp coming up this week which I am focusing on at the moment, the worlds will be my focus afterwards. It is not going to be easy (the British Comp) but it will be a good warm up for us. 
Ansel: For me the competitions don't make a difference to training, I am consistently training for everything.
Q: Have you been to Brazil before? 
Ansel: No
Charlie: No
Ansel/Charlie: We are a bit apprehensive, pretty excited should be a good laugh. Also can't wait to be deadly serious when the comp  is on.  We also can't wait to get out of these wetsuit (they are stinking), and be able to surf in our board shorts. 
We are also looking forward to seeing the football culture and hearing the music. We are also buzzing about seeing Christ the Redeemer.
Q: What advice would you give any youngsters out there wanting to get into surfing?
Charlie/Ansel: Watch Surfs Up! That is genuinely what got us into surfing. Only the first one, definitely not the second. 
Charlie: I loved the Junior Course, it's a good way of a week long development to start you on your way with your surfing journey. After that just stick at it, 
Ansel: Don't be afraid to push yourself out of your comfort zone in the waves but stay within your limits. And also – don't get too upset when we drop in on you.
Q: If anyone wants to keep up to date with your surfing how can they do that?
Charlie/Ansel: Follow us on Instagram. We post all our updates there.
Charlie: @charlie_pugh1
Ansel: @ajparkin1 
Final message:
We just want to thank anyone that has helped with our fundraiser. It makes a big difference and we both really appreciate it. 
And thank you Charlie and Ansel for taking time out of your busy schedule to sit down with us. From everyone at Coast to Coast we wish you the best in the competition and look forward to watching from home.
If you would like to read more head to:  
https://isasurf.org/event/2023-rio-de-janeiro-isa-world-junior-surfing-championship/
At time of writing Ansel has just become Scotlands U14yrs Junior boys series winner and Charlie Scotlands U16yrs Junior boys winner – so a massive congratulation. Both will be heading to the British and Worlds for experience with 3 and 4 more years as juniors.
We will have regular social media updates on all competitions.